Michigan Territory. Drawn by James Finlayson. Appeared as map 36 in A Complete Historical, Chronological, And Geographical American Atlas, Being A Guide To The History Of North And South America, And The West Indies ... To The Year 1822. Published in Philadelphia by Carey & Lea in 1822.
Territoire de Michigan. Drawn by by B. Beaupré. Appeared as map 40 in Atlas Geographique, Statistique, Historique et Chronologique des deux Ameriques et des Iles Adjacentes. Published by Jean Alexandre Buchon and J. Carez in Paris in 1825.
The 1822 "Michigan Territory" map is the first separate map of Michigan Territory. Never before had Michigan received its very own sheet of paper, always before it was grouped regionally.
Both maps on display show Michigan's very first road which ran from Mt. Clemens down into Ohio. Over by Chicago we see the location of a planned canal connecting to Chicago River to the Illinois River (and in turn the Mississippi River system).
These two maps illustrate the utter lack of international copyright agreements in the 19th century. The 1825 French atlas was freely copied from the 1822 American atlas, which in concept had been largely copied from an earlier British atlas.
The French version is nearly identical to the English map except that the text is in French. The units of measure were kept in the British-American "miles" rather than converted into French meters or lieux.
| | |
| --- | --- |
| | |
| Detail from Finlayson's map "Michigan Territory," 1822 | Detail from Beaupre's map "Territoire de Michigan," 1825 |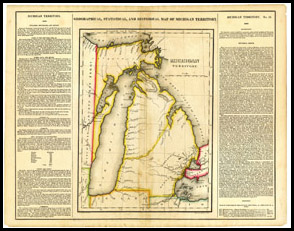 Thumbnail of the full Finlayson map and text
These maps will be on display in the MSU Map Library the week of April 15, 2013. "Michigan Territory" was a generous gift of Ron Dietz. "Territoire de Michigan" was a generous gift of Mike DeGrow.
Sources:

"Economics and the Emergence of Modern Publishing in the United States," by Joshua L. Rosenbloom. It appeared in Publishing History, volume 29 (1991), pages 47-68.
Bibliography of the printed maps of Michigan, 1804-1880 by Louis Charles Karpinski and William Lee Jenks. Published in Lansing, Michigan by the Michigan historical commission in 1931.
Tooley's Dictionary of Mapmakers by Ronald Vere Tooley, Josephine French, Valerie Scott, and Mary Alice Lowenthal. Published by Map Collector Publications in association with Richard Arkway in Tring, England in 1999.