The Farm People of Michigan According to Ethnic Stocks. Made by John Frederick Thaden. Published in East Lansing by the Michigan State College Agricultural Experiment Station in 1945.
John Thaden, Associate Professor of Sociology and Anthropology at Michigan State College, mapped the many ethnic settlements among the farming population in Michigan. The map marks out twenty-one different European ethnicities plus Canadian, Indian [Native American], Mexican, and Negro. The 3 counties comprising the southwestern tip of Michigan alone were home to a large number of small ethnic clusters including Czechoslovakian, German, Hollander, Italian, Lithuanian, Negro, Polish, Russian, and Swedish.
Thaden compiled this map based on a mixture of Census data, personal interviews with officials in all 83 counties of Michigan, and records kept by the school districts. No settlement was marked unless it contained at least 10 farm families of which a majority of them had heads of household that were foreign born or had foreign-born parents.
The MSU Map Library has both the published map, plus a preliminary draft edition colored by hand.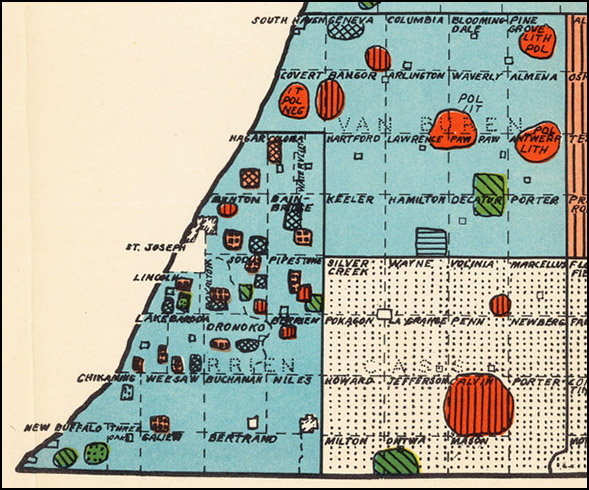 Detail from map
This map will be on display in the MSU Map Library the week of July 8, 2013.
Sources:

Ethnic Maps of North America. An article written by Karl B. Raitz in the journal Geographical Review, July 1978, volume 68 number 3, on pages 335-350.
Ethnic Settlements in Rural Michigan. An article written by John F. Thaden and published in The Quarterly Bulletin, Michigan State College Agricultural Experiment Station, volume 9, on pages 102-111.