Panama Canal, Present Future, Topographic, Diagramatic and Illustrative: As Canal Will Look When Completed. By Edwin J. Beverstock and George Davidson. Published in Washington, D.C. by mapmaker Edwin J. Beverstock in 1903.
The Panama Canal is a good example of a project that seems like it will be much easier than it is. Anyone looking at a map of Central America can't help but notice how skinny that isthmus is, and how nicely it would cut down travel if only we could cut a canal through there.
For 12 years the World watched as the French fiddled around trying to build a canal. Everyone expected success, of course, because the French had managed to build the Suez Canal which connected the Mediterranean Sea with the Indian Ocean (inadvertently launching piracy careers for some Somalians).
But the reality was annual torrential flash flooding, thousands of workers dead of malaria and yellow fever, and millions of dollars over budget. In 1893 the French reluctantly gave up and looked for deep-pocketed suckers, ah I mean an enterprising young nation interested in a fantastic geopolitical opportunity.
This map was made shortly after the United States signed a treaty with the very new nation of Panama to take over the enterprise. A prior owner of the map marked in places where actual construction varied from the printed plan.
This map will be on display in the MSU Map Library the week of May 13, 2013. It was a generous gift of Ron Dietz.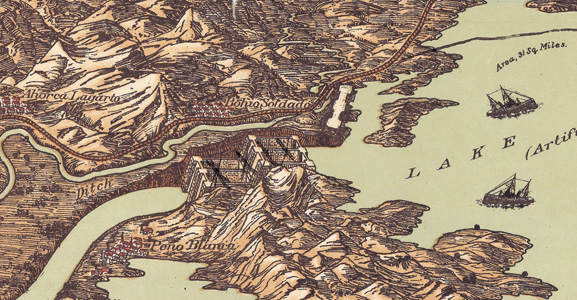 Detail from map showing XX where planned locks were not built.