Map of Land in the Eighth Ward of the City of Brooklyn belonging to the heirs of Leffert Bergen. Drawn by [Brooklyn] City Surveyors Ludlaw and Stuchfield in March 1882.
The Bergens were among the original settlers of a remote place called Breuklen, New Netherlands, which was later called Brooklyn, New York. For several generations this Norse/Dutch family worked their own farmland. Eventually the economic reach of New York City altered farming in Brooklyn from field crops to more profitable vegetables. As farm income and therefore land values rose, the Bergens and other such families became landlords, leasing their fields to others. Leffert Bergen only inherited a sliver of the family farm, but even so when a portion of his lands were sold off in 1882 (26 years after his death), it had morphed into several extremely valuable city blocks.
Almost half of the map is devoted to seaside property below the high water mark. Though this area was unsuitable for homes or farms, piers could be built out into the Upper Bay of the Atlantic Ocean to receive ships serving nearby warehouses.
The map is a lovely example of a 19th century property sale map; it was mounted on linen and was meant to be rolled and tied. It is significant in that it illustrates this textbook example of land use succession, from agricultural to residential and commercial, which has happened near major cities all over the United States.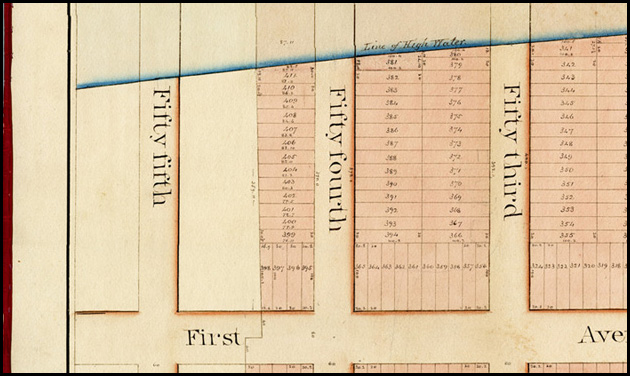 Detail from map
Sources:



U.S. Census of Population, 1850, 1860, 1870.
Of Cabbages and Kings County: Agriculture and the Formation of Modern Brooklyn by Linder & Zacharias, Published by University of Iowa Press in 1999.


A History of the City of Brooklyn, Vol. 1, by Henry Stiles, re-printed by Heritage Books in 1993.
This map will be on display in the Map Library the week of March 11, 2013. It was a generous gift of Ron Dietz