Partie de l'Amérique septent? qui comprend la Nouvelle France ou le Canada. Published as page 98 in Atlas Universel, By Robert de Vaugondy in Paris in 1755 (second state).
The French were on the forefront of mapmaking in the 18th century. Geographers such as Robert Vaugondy carefully sifted through a wide variety of available reports, maps, and scientific measurements, balancing differences in conflicting reports.
This map focuses on French-controlled parts of North America. Vaugondy's depiction of the Great Lakes is heavily influenced by Bellin's 1744 map. The British were deeply offended by the boundary drawn in Acadia (current day Nova Scotia). They perceived it as a French plot to sway the Boundary Commission then debating the issue.
At this time the much more populous British colonies were beginning to push west into French territory. This particular map didn't concern itself with the 1754 skirmish held near current day Pittsburgh, Pennsylvania. Little did the French realize that 1755 was working out to be a momentous year in North American history; maps published after this point would be quite different.
The Vaugondy mapmakers were known for their lovely cartouches. On this map we see a canoe underneath a blanket draped over a tree limb. This simple shelter perfectly symbolizes the Voyageur lifestyle and the French presence in the Great Lakes region.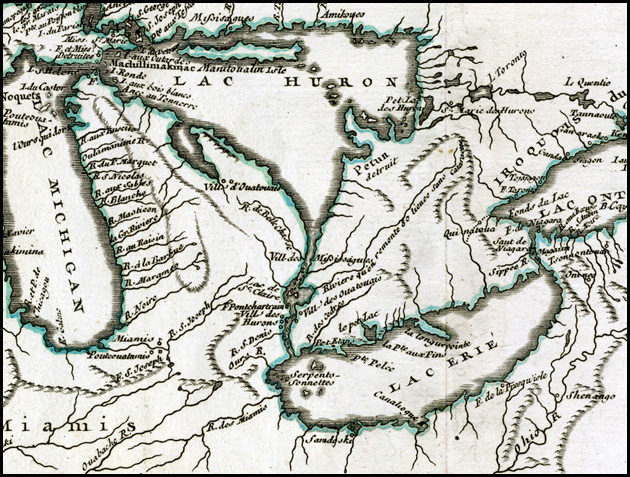 Detail from map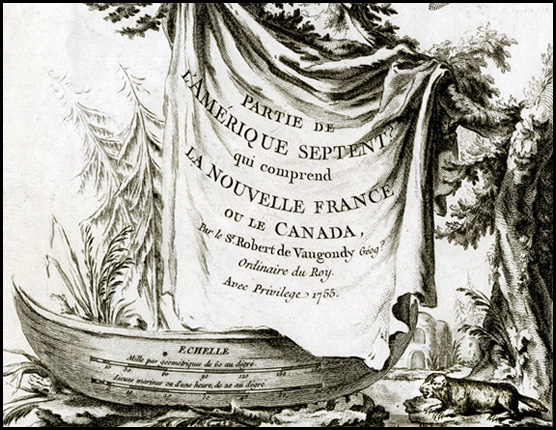 Detail from map
This map will be on display in the Map Library the week of March 18, 2013. It was a generous gift of Ron Dietz.
Sources:

Bel et Utile: The Work of the Robert de Vaugondy Family of Mapmakers. Written by Mary S. Pedley and published in 1992 by Map Collector Publications.
Roads of Destiny: The Trails that Shaped a Nation. Written by Douglas Waitley and published in 1970 by R. B. Luce.