Carte du Canada et de la Louisiane Qui Forment La Nouvelle France et des Colonies Angloises ou font representez les Pays contestez. Published in Atlas Universel by Jean Baptiste Nolin in Paris in 1756.
The map depicts all the French controlled lands in North America, from Acadia in the north through the Great Lakes, and down the Mississippi to the Gulf of Mexico. The extensive text describes the territory they control, the history of its discovery, and names their numerous Native American allies.
The Lake Superior islands have gotten so big that that it hardly seems like a canoe could squeeze in between them. Settlements throughout the map are few and small, but we can see some familiar names such as Biloxi, Pensacola, and New Orleans. "Alabamous" and "Acansas" and "Checagou" are names in the making.
The French population in North America was quite small, exerting their influence via allegiances with Native American groups. A thin network of Voyageurs plied the waterways guarded by military forts; few French lived in the interior. Meanwhile the burgeoning land-hungry British population exerted westward pressure, further upsetting the British-French-Native American balance.
One lone road is depicted on the map: As a nod to current events, Nolin notes the British-made road built in 1755 to take Braddock's army to Fort Duquesne (called Fort Contesté here). Nolin places the Fort (now Pittsburgh, Pennsylvania) due south of Michigan.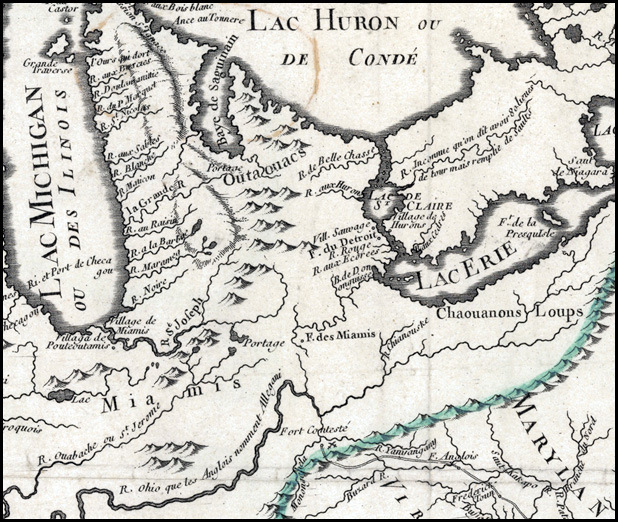 Detail from map
This map will be on display in the Map Library the week of March 25, 2013. It was a generous gift of Ron Dietz.
Sources:

Roads of Destiny: The Trails that Shaped a Nation. Written by Douglas Waitley and published in 1970 by R. B. Luce.
Checklist of printed maps of the Middle West to 1900. Compiled by Robert W. Karrow, Published in Boston in 1981 by G.K. Hall. Vol. 1, entry 0335.