Africa. Map 49 in A General Atlas Of The World, With A Separate Map Of Each Of The United States Of America. By S.G. Goodrich and T.G. Bradford. Published in Boston by C.D. Strong in 1841.
This map shows the extent of European knowledge of African geography in 1841. Names of regions and places are almost entirely along the coasts, leaving the interior blank. One exception is some fairly good understanding of the oases and settlements across the Sahara. This map lacks busy details to fill unknown areas. Map-makers were by now content to leave areas of insufficient or conflicting reports unapologetically blank.
Lake Victoria has not yet been discovered by Europeans; the White Nile is shown originating in some vague mountains mid-continent. The enormous Congo River Basin also has yet to be discovered.
The mid-19th century was an interesting pivot point in Africa's history. The Atlantic slave trade was slowing drastically, bringing great change to the economies of slave-trading areas. Small colonies of released or rescued abductees had been made by the United States (Liberia) and the British (Sierra Leone). Large scale European presence in the continent had not yet begun.
This map will be on display in the Map Library the week of April 29, 2013. It was a generous gift of Ron Dietz.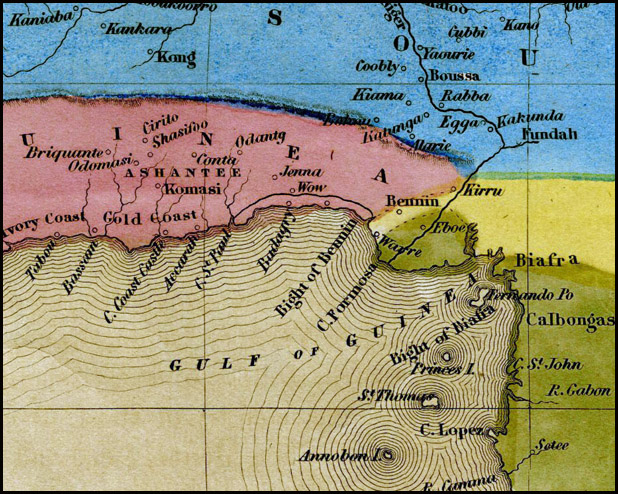 Detail from map
Sources:

Africa 1500-1900. By Constance Jones. Published in New York by Facts on File in 1993.
A History of Africa 1840-1914, Volume One 1840-1880. By Michael Tidy and Donald Leeming. Published in London by Hodder and Stoughton in 1980.
Norwich's Maps of Africa, Second edition. By Oscar Norwich and revised by Jeffrey C. Stone. Published in Norwich, Vermont by Terra Nova Press in 1997.