The First Photograph Ever Made Showing the Division between the Troposphere and the Stratosphere and Also the Actual Curvature of the Earth. By A. W. Stevens and Orvil A. Anderson. Published in the May 1936 issue of National Geographic Magazine in Washington, D.C. by National Geographic Society.

-and-

One Hundred Proofs That the Earth Is Not a Globe. By William Carpenter and originally published in Baltimore in 1885. Republished in Zion, Illinois by Wilbur Glenn Voliva in 1929.
Certainly by 1936 practically everyone understood that the Earth is a sphere (or, more accurately, a slightly irregular geoid). Two U.S. Army Air Corp Captains were able to provide Earthlings with definitive proof by venturing 72,395 feet above the Earth to take this photograph. The black horizontal line, when compared to the Earth's horizon, shows the curvature.
This aerial photomap also revealed the novelty of a black sky (due to only 4% of the Earth's atmosphere being above their balloon, the Explorer II).
Also on display we have a booklet forwarding the idea of a Flat Earth. Since ardent Flat Earth proponents are mostly uninterested in science-based evidence, the photograph hardly rained on their parade at all.
These items will be on display in the MSU Map Library the week of May 6, 2013. The map was a generous gift of Ron Dietz. The booklet was purchased from funds provided through the Brunnschweiler Geography Library Endowment Fund.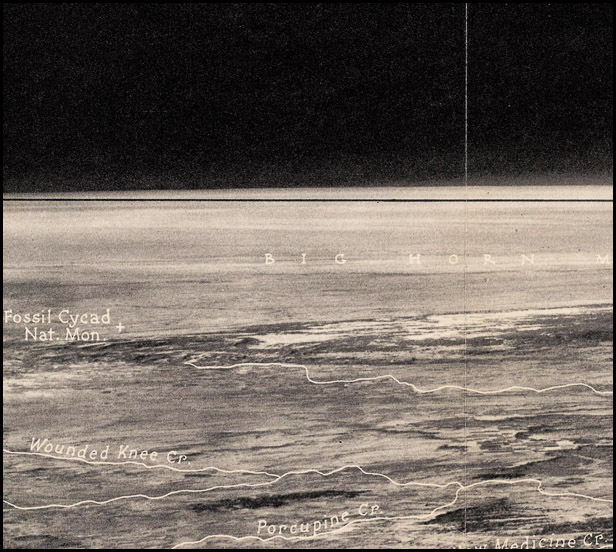 Detail from aerial photo map