On April 1, 1840 Michigan's governor approved the creation of 30 new counties to fill in the recently surveyed northern Lower Peninsula. The counties didn't fit on old 1830s style maps. The Bradford map on the left forces Grand Traverse County (called 'Ometna' here) to be landlocked and Grand Traverse Bay is in Charlevoix County (called 'Keskkauko' here). The Tanner map on the right used new geography to map the counties (more or less) correctly. Both maps misspelled numerous county names from those approved by the legislature.
Many of the names, which had been proposed by Superintendent of Indian Affairs Henry Rowe Schoolcraft, didn't persist. Of local native origin, the names were found to be too complicated for English speakers. Sixteen counties' names changed again on March 8, 1843.
These maps will be on exhibit in the MSU Map Library starting April 1, 2015.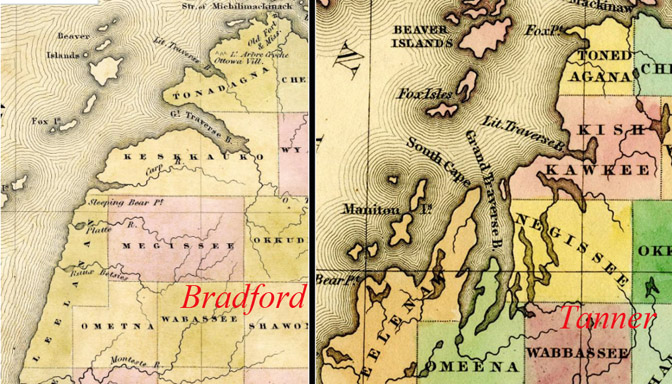 On Exhibit:

Michigan. Drawn by David H. Burr. Published in New York by D. H. Burr in 1831. This map is included in the physical exhibit to show how the counties were distributed prior to 1840. For a closer look, see the Full Scanned Map.
Michigan. By T. G. Bradford, George W. Boynton, and Earl W. De La Vergne. Published in Boston by T.G. Bradford around 1842. For more information see, the Full Scanned Map.
A new map of Michigan with its canals, roads & distances. By H.S. Tanner and engineered by E.B. Dawson. Published in Philadelphia by Carey & Hart, around 1841.

For more information, see the Full Scanned Map.