In 1927, Clyde Newnom authored a guidebook to Michigan titled Michigan's Thirty-seven Million Acres of Diamonds.The author, in his introduction, explained the use of the word 'diamonds' poetically: "Her [Michigan's] hand is overflowing with vast natural resources and great wealth." Clyde was not suggesting literally that Michigan might include diamonds as one of these natural resources of note.
A lucky few, however, have found diamonds in the Great Lakes area. Michigan's most notable find was Frank Blackmond's 11-carat diamond found in 1894 near Dowagiac in southwest Michigan. Several others had been found and reported in southeast Wisconsin. Five years later William Hobbs, a geologist, puzzled over these finds in a geological journal article. Many were quite large, which makes sense considering that nobody would be systematically sifting around looking for them, and only larger ones would be noticed and identified for what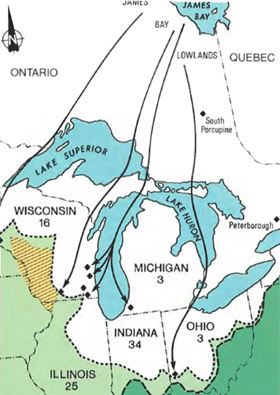 they were. Stannard Bergquist, chair of the MSU Geology Department 1929-1957, also found a large yellow diamond in southwest Michigan. We wouldn't be surprised if more people kept such finds quiet.
But how did they get there? All the Great Lakes area diamonds had been found in gravelly debris left behind when the glaciers melted several thousand years ago. Geologist William H. Hobbs traced the suspected path of the glaciers backward to their northern origin and predicted in his 1899 article that the diamonds likely originated from the southeast side of Hudson Bay in Quebec.
And so it sat for some time. Hobbs' 1899 article was reprinted in a Canadian geology journal in 1953, perhaps to draw attention again to this possibility. It wasn't until the late 20th century that diamond behemoth DeBeers Group started to get serious about prospecting for diamonds in Canada. In 2008 the Victor Mine, located in Ontario on the southwest side of Hudson Bay, began commercial production.
Are there more diamonds to be found in Michigan? Likely. The map below marks in black the glacial moraines of the Great Lakes area. More detailed maps of the surface formations of Michigan are available in the MSU Map Library. Will diamonds be easy to find? Likely not! But here is something to watch for while hiking in beautiful Pure Michigan.
References
Fowler, J. A., H. S. Gruetter, J. M. Kong, and B. D. Wood. "Diamond Exploration in Northern Ontario with Reference to the Victor Kimberlite, Near Attawapiskat." Exploration and Mining Geology 10, no. 1-2 (04, 2001): 67-75.
Hobbs, Wm. H.. 1899. "The Diamond Field of the Great Lakes". The Journal of Geology 7 (4). University of Chicago Press: 375–88.http://www.jstor.org/stable/30061471.
Kunz, George Federick. "Precious Stones" in Eighteenth Annual Report U. S. Geological Survey Pt. IV, 1895, p. 596.
Levinson, Alfred A., John J. Gurney, and Melissa B. Kirkley. 1992. Diamond sources and production: Past, present, and future. Gems & Gemology 28 (4): 234-54. [source for the color map]
Martin, Helen M. Map of the Surface Formations of the Southern Peninsula of Michigan. Lansing, MI: Michigan Geological Survey Division, 1955.
Martin, Helen M., and William L. Daoust. Map of the Surface Formations of the northern peninsula of Michigan. Lansing, MI: Michigan Geological Survey Division, 1957.
Newnom, Clyde L. Michigan's Thirty-Seven Million Acres of Diamonds. Detroit, Mich: Book of Michigan Co, 1927.
Schaetzl, Randall. Moraines. In Geography of Michigan, Geo 333.http://geo.msu.edu/extra/geogmich/moraines.html[source for the map of moraines]
Two Diamonds Grown by Washington Diamonds(graphic).https://commons.wikimedia.org/wiki/File:Two_diamonds_grown_by_Washington_Diamonds.jpg
Wood, B.D., B. H. Scott Smith, and B. Rameseder. The Victor Diamond Mine, North Ontario, Canada: Successful Mining of a Reliable Resource. In D. G. Pearson et al. (eds.), Proceedings of 10th International Kimberlite Conference, Volume 2, Special Issue of theJournal of the Geological Society of India, pp 19-33. 2013.