Gas stations weren't the only place to get free road maps in the early 20th century. This map of the U.S. Midwest was distributed by the menswear clothing chain Richman Brothers.
Though the map is undated, we can confidently place it in the mid-1930s because of the price of the suits. Richman's had simple pricing: From fall 1933 to spring 1937, $22.50 could buy you any suit or overcoat in the store ($412 by today's prices). The style of the automobile also gives us a clue to the map's date.
Richman Brothers was an innovative and progressive company. Their own factory in Cleveland manufactured all their products. Gifts of company stock and no-interest loans for home purchases were just some of the worker-friendly practices implemented by the three Richman brother founders.
Lansing, Michigan was home to a Richman's store from 1921 to 1984, located on S. Washington, downtown.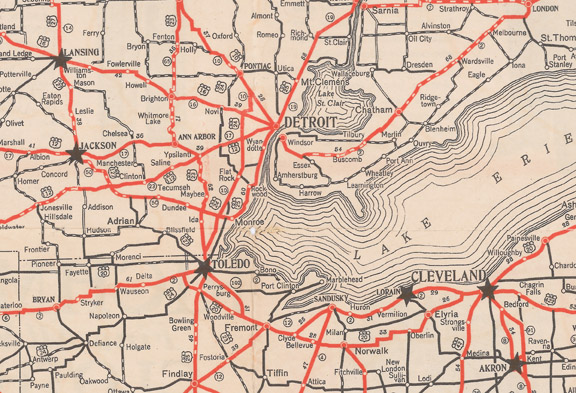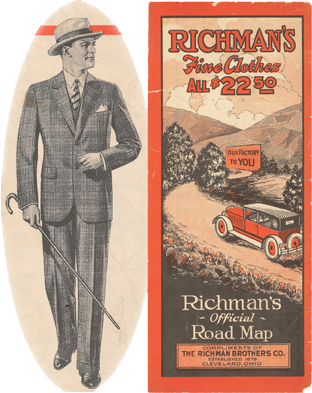 Citation: Richman's Official Road Map. Made by The Foreman-Bassett Company of Cleveland, Ohio circa 1935. Distributed by Richman Brothers, Inc.
This map will be on exhibit in the MSU Map Library starting October 30, 2014. It was a generous gift of Charles Schoenknecht and Ward A. Paul.