By guest blogger Diana Rivera

Chicana/o Latina/o Studies Subject Specialist, Michigan State University Libraries
The area known as New Mexico was previously part of the Spanish crown and then Mexico where over 140 land grants were issued between 1692 and 1846 (Williams, 104). These grants provided individuals, towns and groups land and water rights for private and communal use primarily along the Rio Grande river basin. After the Mexican-American War of 1846-1848, Mexico ceded almost half of its land for $15,000,000 in the Treaty of Guadalupe Hidalgo. The treaty included terms under Article X guaranteeing the protection of property and civil rights of Mexican nationals within the new boundaries of the US. The legal systems and rights in Spanish and Mexican jurisprudence, however, did not translate or transfer well into the Anglo-based courts system. U.S. courts interpreted the Mexican grants as part of Mexico ceded to the US and not as private holdings.
This 1903 map was published 6 years before New Mexico became a state. It shows many of those grants that would be, and have been, contested by heirs and descendants of the original private and communal grantees. Among the largest land grants are the Armendaris (south central), Mora and Maxwell (north eastern) grants and the most notorious is the Tierra Amarilla grant (north central ). Tierra Amarilla was a Mexican government grant for Manuel Martinez and the settlers around Abiquiu that was under attack by original populations such as the Apaches and Navajos. These attacks led to a dwindling population. Reies Lopez Tijerina, a Spanish-Indigenous activist during the Chicano Movement of the 1960s, led a land grant alliance (Alianza Federal de Mercedes) in the raid of the local courthouse. The action was focused on calling attention to corrupt practices and systems that left land grant owners and heirs without land and hopefully recoup some of those lands. He was unsuccessful and jailed for the attack.
This map will be on exhibit in the MSU Map Library beginning the week of March 24, 2014. Click here to see the full map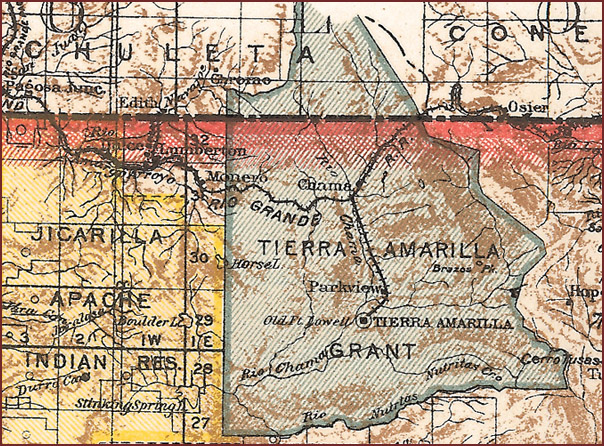 Detail from map
Map citation:

Territory of New Mexico. From U.S. House. 58th Congress, 2nd Session. H.doc.5/30 (Serial Set 4649) report titled, Annual Reports of the Department of the Interior for the fiscal year ended June 30, 1903. Published in Washington, DC by the Government Printing Office in 1903.
For additional information:
Tijerina, Reies, and Elsa K. Thompson. Reies Tijerina: Leader of the Alianza. North Hollywood, CA: Pacifica Radio Archives, 2000. Sound recording.
Tijerina, Reies, and José A. Gutiérrez. They Called Me "king Tiger": My Struggle for the Land and Our Rights. Houston, Tex: Arte Publico Press, 2000. Print.
Williams, Jerry L. New Mexico in Maps. Albuquerque: University of New Mexico Press, 1986.