Чикаго [Chicago]. Compiled by E. M. Kolokoltseva, edited by L. I. Komarov. Published by the Union of Soviet Socialist Republics (USSR) in 1961.
During the Cold War the Soviet Union created detailed maps of other parts of the world, including the United States. The US can hardly complain, though, as the US Army Map Service and its subsequent organizations mapped at the same time plenty of foreign countries themselves. The Soviet maps were highly classified, but began to leak out of Russia shortly after the breakup of the Eastern Bloc.
This map of the Chicago area was not a simple copy of an existing US map with only translated text. While it uses information from freely available US sources, the data were gathered from a variety of sources and re-cast to the particular mapping standards favored by the Soviets for all their mapping projects. This scale was intended for use by ground forces planning combat operations and troop movements.
This map was a generous gift of Dr. Kazuya Fujita. It will be on display in the MSU Map Library starting the week of April 22, 2014.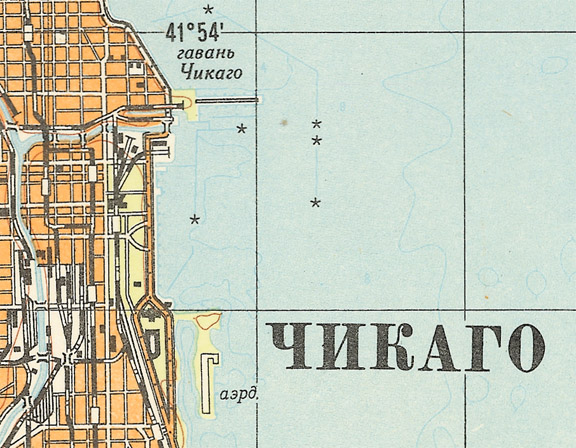 Detail from map
Sources:

"Hot geospatial intelligence from a cold war: The Soviet military mapping of towns and cities." An article published in 2013 in Cartography and Geographic Information Science (volume 40, issue 30), on pages 248-253.
Russian Military Mapping: A guide to using the most comprehensive source of global geospatial intelligence. A book translated from Russian and published in 2005 in Minneapolis by East View Cartographic.
Soviet military mapping. An article by David Watt published in 2005 in Sheetlines: The Newsletter of the Charles Close Society (vol 74), on pages 9-12.