Carte pour servir a l'Itineraire pittoresque du Fleuve Hudson et des Parties laterales de L'Amerique du Nord. Made in 1826 by J. Milbert. Made for the book Itinéraire Pittoresque du Fleuve Hudson et des Parties Laterales published in Paris by Henri Gaugain in 1828.
Long before the concept of 'invasive species' was established, naturalists such as Jacques Milbert combed the exotic American landscape for novel plants to share with the Old Country. Milbert's skill as a landscape artist is apparent in his 2-volume travel journal and 'atlas' of sketches which was published after his return. This journal is much cherished in the United States for providing early views of the country and descriptions of lifestyle and customs.
The map on display was the only one to appear in this work. The geography is nearly a spot-on copy of that in John Melish's 1813 'Map of the Seat of War in North America.' Even the scroll is identical, except that Melish filled his with a population list rather than the title information.

The map highlights the water routes from New York City to Michigan Territory - including an inset of the Hudson River, the Erie Canal, the St. Lawrence Seaway, and both the Grand River and Lake Simcoe canoe shortcuts through Ontario. Milbert noted on the map the places he traveled, which were all well East of Michigan Territory.
This map will be on exhibit in the MSU Map Library beginning the week of December 30, 2013. It was a generous gift of Ron Dietz.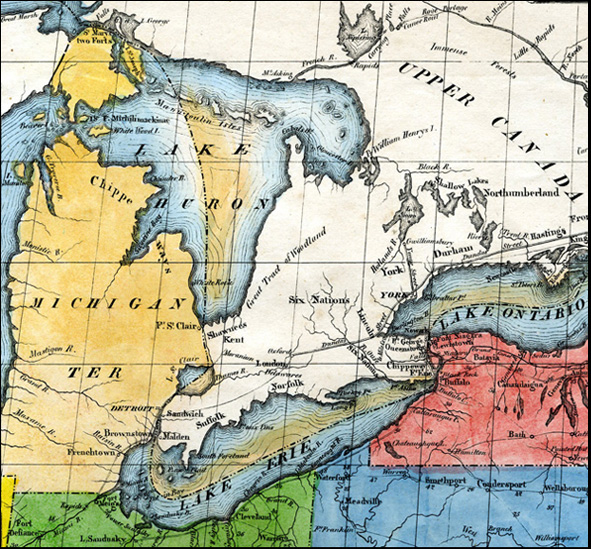 Sources:
"Boston from the State House Belvedere a Century Ago." An article written by Constance D. Sherman and published in December 1959 in the journal The New England Quarterly, volume 32 number 4, on pages 521-530.
"Jacques Gerard Milbert." An entry in the book Appleton's Cyclopaedia of American Biography, volume 4, published 1887 through 1889 in New York by D. Appleton and Company.