Territory of Dakota. Made by Charles Roeser. Published in Washington, DC by the United States General Land Office in 1882.
This map depicts the status of land division and disposition of Datoka Territory, under the United States General Land Office. At this time Dakota Territory comprised modern day North Dakota and South Dakota.
In the prior decade gold had been discovered inside the Great Sioux Reservation, which had led to the war between the United States and the Native Americans living in the region. This map shows the Great Sioux Reservation with its revised boundary that excluded the gold-rich Black Hills.
1882 is also the year famous pioneer Laura Ingalls was living about 350 miles to the East in the town of DeSmet, in the period depicted in her book Little Town on the Prairie.
This map will be on display in the MSU Map Library the week of June 3, 2013.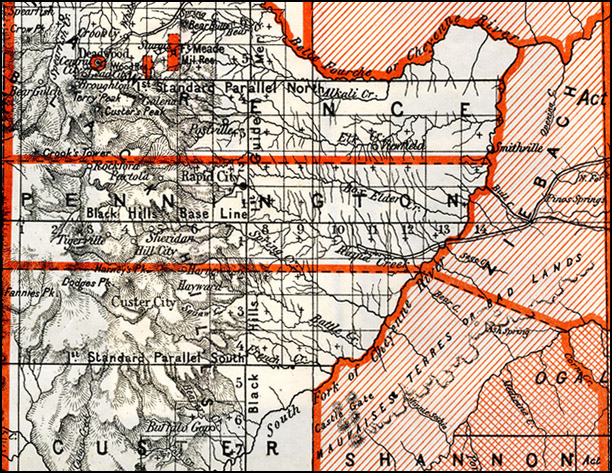 Detail from map, showing the Black Hills and nearby remaining Reservations
Sources:

History of South Dakota. Written by Herbert Samuel Schell and John E. Miller. Published in Pierre, South Dakota by the South Dakota State Historical Society Press in2004.
Laura: The Life of Laura Ingalls Wilder. Written by Donald Zochert. Published in Chicago by H. Regnery Co. in 1976.