Carte de la Californie. Published in Robert de Vaugondy's Supplement 5 to Denis Diderot's Dictionnaire rasonné des sciences. Published in Paris in 1772.
This map shows us that our fascination with depictions of California as an island is nothing new. This 1772 map compares five maps of California that had been drawn between 1604 through 1767. During this time span California went from being a peninsula to an island, and back to a peninsula again.
The Spanish were the primary European explorers in the area. Traveling up the west coast of America from the south, the Baja Peninsula fooled them into thinking California was a giant island off the coast of the continent.

 

Five maps excerpts are from the following:

Manuscript map of America by Mathieu Néron Pecci drawn in Florence in 1604

Audience de Guadalajara, Nouveau Mexique, Californie, &c. by Nicolas Sanson, published in Paris in 1656

L'Amerique Septentrionale, by Claude and Guillaume De l'Isle, published in Paris in 1700

Passage par terre a la Californie, by Father Eusebe- François Kino, published in the book Lettres edifiantes et curieuses, ecrites des missions etrangeres par quelques missionaires de la Compagnie de Jesus in Paris in 1705.

Map of west area of New Mexico and California by the Société des Jésuites in 1767.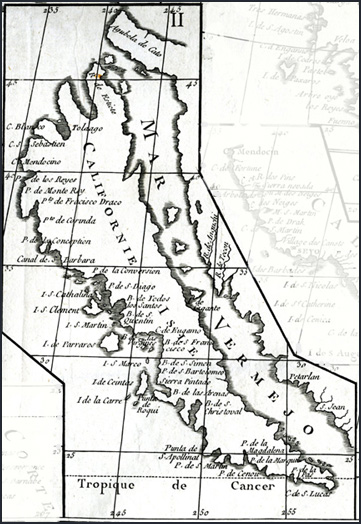 Detail from Vaugondy's Carte de la Californie, 1772
Also on display is the book, The Mapping of California As an Island: An Illustrated Checklist. Written by Glen McLaughlin, Nancy H. Mayo, and Marianne Hinckle. Published in Saratoga, California by the California Map Society in 1995.
These items will be on display in the map library the week of June 17, 2013. The map was a generous gift of Ron Dietz.