Archidiaconatus Garsensis: Tabula Topographica. Published in Vol. 1 of Monumenta Bioca by Bayerische Akademie der Wissenschaften in Munich, 1763.

-and-

Archidiaconatus Baumburgensis: Tabula Topographica. Published in Vol. 3 of Monumenta Bioca by the Akademie in Munich, 1764.
These two maps note the locations of monasteries churches and chapels within two Archdioceses in Bavaria. One exception is a depiction in the Garsensis map of two armies clashing in red and blue coats. This is to note the glorious victory for House of Wittlesbach over the powerful Habsburgs, which had happened in 1322, 440 years prior to the map's manufacture.
The maps were published by Bavaria's Academy of Science. The Garsensis map illustrated the very first article to appear in their scholarly periodical Monumenta Boica.
The Baumburgensis map appeared in volume 3 as part of their ongoing effort to document the locations and histories of Bavaria's ecclesiastical geography. These maps are significant because they document the state of affairs bare decades before Secularization changed the relationship of church and state forever. Interestingly, the Society chose to publish in Latin rather than in their native German.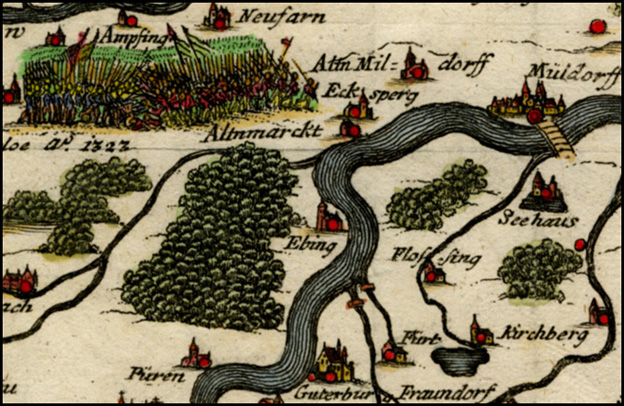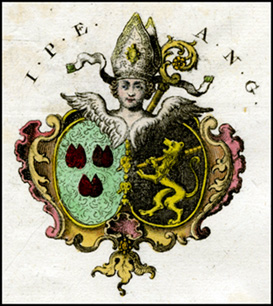 Detail from Archidiaconatus Garsensis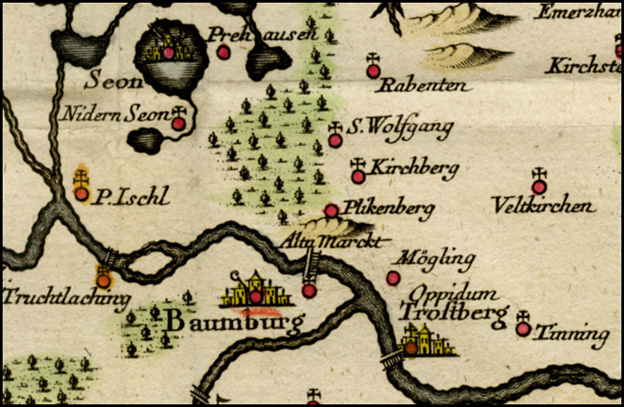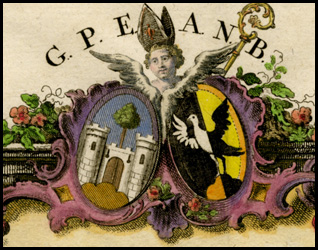 Detail from Archidiaconatus Baumburgensis
These maps will be in the display case in the Map Library the week of February 25, 2013. They were generous gifts of Ron Dietz.