Genehoa, Jaloffi, et Sierraliones Regna. By Johannes Janssonius. Likely published in Atlas Contractus by Janssonius Heirs in Amsterdam in 1666.
This map is an early one to show the west coast of Africa in such detail. The Atlantic Slave Trade had been increasing for the past 150 years and was going to continue to increase for another 200. Portuguese influence can be seen by "Rio Portugues" dividing Mauritania (Genehoa) from Senegal. Goree Island, an early site of European activity, is noted. The cartouche shows light skinned people displaying products of bounty including fruit and animal skins.
Map geeks will appreciate that north is depicted to the left in this map, and the line of Meridian (0˚ longitude) goes through Cape Verde.
This map was produced in the early days of atlases when component maps were made individually and then either sold separately or collected into atlases produced over decades for various purposes. This particular map is dedicated in the most flattering terms to Dutch nobleman Adrian Pauw.
The Janssonius family were well known and prolific Dutch mapmakers. Earlier in his career, Johannes traded on his affiliations with better known mapmakers Hondius and Mercator. Here, however, his heirs are trading on his name by billing themselves as 'Heredes Joannis Janssoniss."
This map will be on display in the Map Library the week of May 20, 2013. It was purchased with funds provided by the Tamara Brunnschweiler Geography Library Endowment.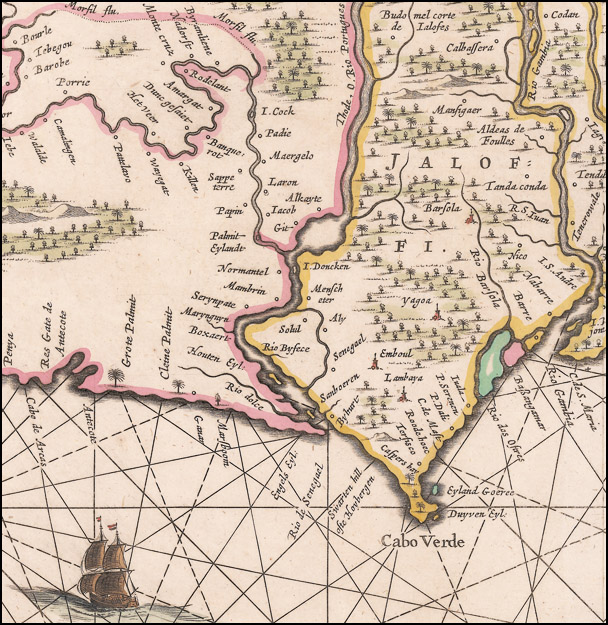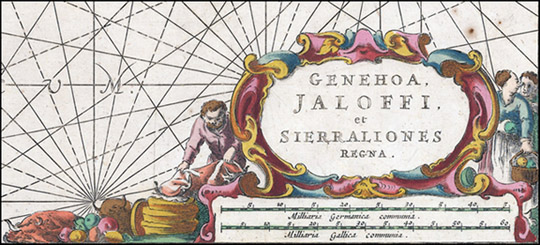 Dedication:

Nobilissimo, Amplißimoque Viro, Domino, Domino Hadriano Pauw Equiti, Domino in Bennebroeck, &c. in Senatu, Hollandiae, Zelandiae, ac Frisiae, nec non in Curia Feudali Hollandiae, et West-Frisiae Consiliario
Sources:

Tooley's Dictionary of Mapmakers, Revised edition, Vol. 2. By Ronald V. Tooley, Josephine French, Valerie Scott, and Mary Alice Lowenthal. Published in Tring, England by Map Collector Publications in association with Richard Arkway in 1999.
Atlantes Neerlandici, Volume 2: Blussé – Mercator. Compiled by Cornelis Koeman. Published in Amsterdam by Theatrum Orbis Terrarum Ltd in 1969.