Carte du Canada. By Claude LeBeau. Taken from his book, Avantures du Sr. C. Le Beau which was published in Amsterdam in 1738.
This map is clearly copied directly from a larger map made in 1698 by Father Louis Hennepin. Le Beau could have chosen any number of newer and more accurate maps to illustrate his story, but he or his publisher chose this 40-year old map.
LeBeau was a bored clerk working in an office in New France. He was no mapmaker and no explorer, but rather an exile banished from France for being a "libertine." LeBeau escaped his fate and hitched a ride back to Amsterdam where he drew on his 18-month experience and wrote of his so-called adventures.
The map is dedicated to the even more controversial Ernst Johann von Biron, Count of Courland and long-time power behind the Russian throne.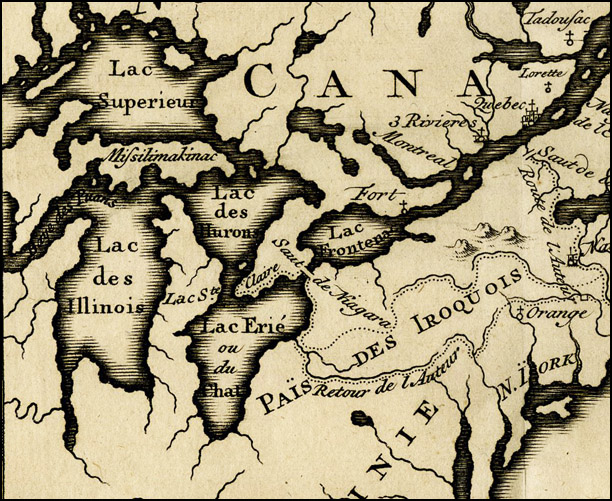 The Le Beau map is displayed in the Map Library starting the week of September 30, 2013, alongside a reproduction of the 1698 Hennepin map.
Amerique septentrionalis: carte d'un tres grand pays entre le Nouveau Mexique et la Mer Glaciale. Made by Louis Hennepin, Abraham van Someren and Jan Van Vianen. Appeared in the book, Nouvelle Découverte d'un Trés Grand Pays Situé Dans l'Amérique, Entre le Nouveau Mexique, et la Mer Glaciale. Published in Amsterdam by A. v. Someren in 1698. Reproduced in The Mapping of the Great Lakes in the Seventeenth Century: Twenty-Two Maps from the George S. & Nancy B. Parker Collection. Published in Providence, Rhode Island by the John Carter Brown Library in 1989.
 

Sources:

"Biron, Ernst Johann." Written by John T. Alexander. In Encyclopedia of Russian History. Ed. James R. Millar. Vol. 1. Pubished in New York by Macmillan Reference USA in 2004.
"LeBeau, Claude," written by Étienne Taillemite and published in Dictionary of Canadian Biography, vol. 2. Published by the University of Toronto/Université Laval, 2003–.



New England in Early Printed Maps 1513-1800: An Annotated Carto-Bibliography. Written by Barbara B. McCorkle. Published in Providence, RI by The John Carter Brown Library in 2001.