Map of the States of Ohio, Indiana & Illinois and Part of Michigan Territory: Compiled from the Latest Authorities. Drawn by D.H. Vance, engraved by J. H. Young. Published in Philadelphia by A. Finley in 1825.
This map wonderfully illustrates a point in time when the states made from the Northwest Territory were only partly formed and partially surveyed and subdivided. One can see how the most detailed survey work commenced along the Ohio, Mississippi and Detroit Rivers and spread up and out to the hinterlands.
Here we see Michigan beginning to take a more modern shape. As the federal surveyors spread out over the state, they measured on the ground what had before only been estimated. Ten counties so far had been marked out, surveyed, and divided into survey townships. Such division prepared the land for claiming, buying and selling.
Michigan was still only a territory at this point and not a state. The states of Indiana, Illinois and Ohio were better known and better settled. Much of these lands were not available for European-American settlement, being in the hands of Native American groups including Sauks, Foxes, Pottowatomies, Kickapoos, Ottawas and Miamis.
This map was purchased with funds from the Tamara Brunnschweiler Geography Library Endowment Fund.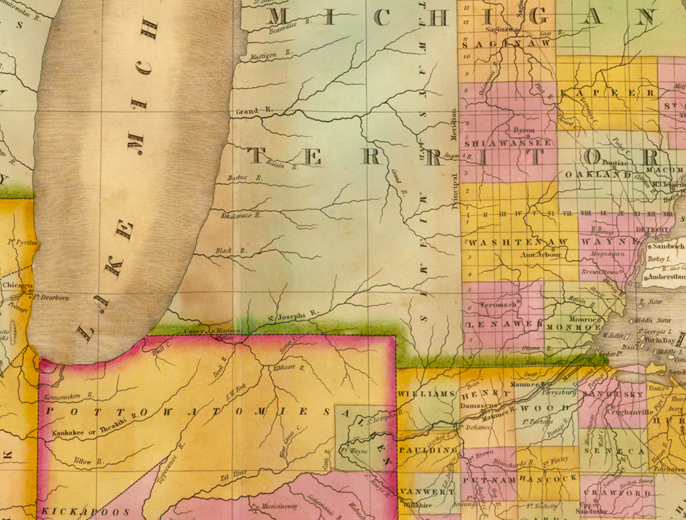 Sources:

Karpinski, Louis Charles, and William Lee Jenks. 1931. Bibliography of the printed maps of Michigan, 1804-1880, with a series of over one hundred reproductions of maps constituting an historical atlas of the Great lakes and Michigan. Lansing, Mich: Michigan historical commission.