Maps were no longer just for kings and scholars. By the late 1500s, maps were increasingly purchased by 'regular' (though still fairly wealthy) people. After all, everyone was interested in the voyages of discovery and exploration going on at this time. European map makers now had enough dribbles of information to piece together world maps based largely on observation rather than on myth.
Ortelius gathered information from many different sources for this world map. The Americas are here, and even part of Australia. Monsters and the worst errors are pressed into parts of the world farthest from Europe: The Antarctic coast and the Pacific Ocean.
This map appeared in the World's first modern atlas. Though expensive, the publication was wildly successful. In several editions published 1570 to 1641, about 3,000 copies were made in several languages. This particular map was in the 1588 Spanish-language edition of the atlas.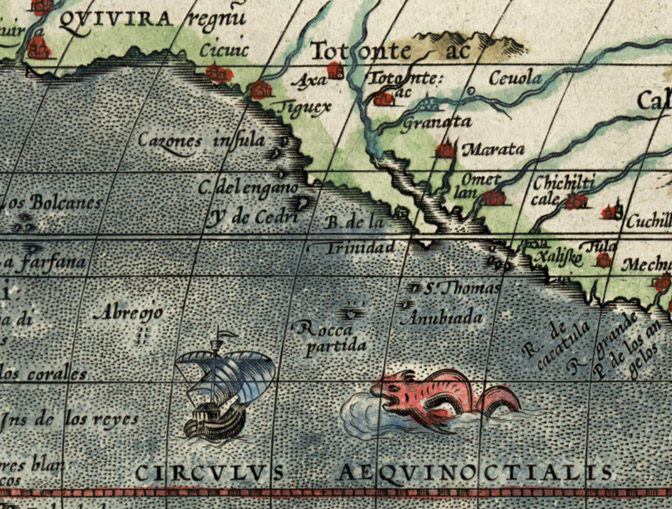 A sea monster menaces a European caravel off the coast of Baja California
The full image is viewable here. This map will be on exhibit in the MSU Map Library starting November 24, 2014. It was purchased with funds gifted by the late Dr. David Campbell.
Citation: Typus Orbis Terrarum. Made by Abraham Ortelius. From the atlas Theatro de la Tierra Universal. Published in Antwerp in 1588.
Sources:

Ortelius Atlas Maps: An Illustrated Guide. 2nd rev. ed. Written by Marcel Van den Broecke and published in Houten, Netherlands in 2011.
Commercial Cartography and Map Production in the Low Countries, 1500 – ca. 1672. Written by Cornelis Koeman, Gunter Schilder, Marco van Egmond, and Peter van der Krogt. In the book, The History of Cartography, vol. 3: Cartography in the European Renaissance, Part 2. Edited by David Woodward and published in Chicago by the University of Chicago Press in 2007.