For hundreds of years European nations yearned to discover a water route over or through the Americas to reach the Pacific and Asia. In 1775 the unofficial contest became more real when Great Britain offered a £20,000 prize (about £2.2 million today) mainly to beat the Spanish to the discovery.
This map attempts to mark out reports from several expeditions. Two, however, were likely fictitious or at least grossly exaggerated, those of Juan de Fuca and "l'Amiral" De Fonte. The Spanish government archives have no records of such voyages (and in De Fonte's case, no such person).
The Russians had a good handle on the shape of Eastern Siberia, however the American side isn't remotely close to reality. Alaska and the Aleutian islands appear as guessed-at blobs. The giant Mer de l'Ouest could be a Colorado-sized San Francisco Bay, or a complete fabrication.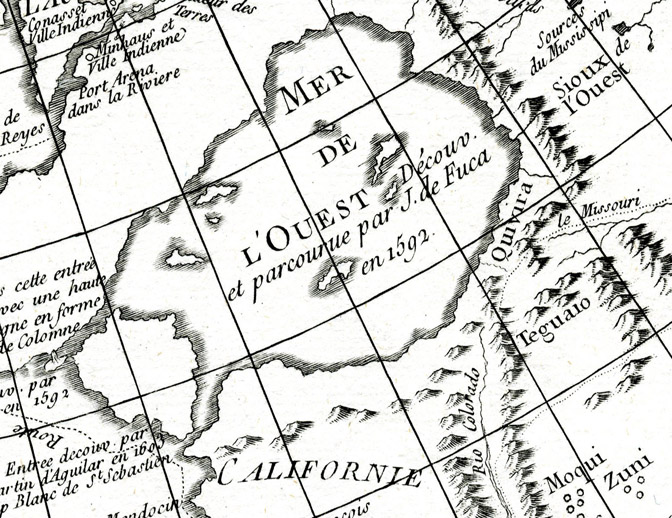 Detail from: "Carte Générale des Découvertes de l'Amiral de Fonte et autres Navigateurs Espagnols, Anglois et Russes pour la recherché du Passage à la Mer du Sud". Drawn in 1752 but reprinted in: Encyclopâedie Mâethodique, ou Par Ordre de Matiáeres, v. 5 Supplement. By Denis Diderot and Published in Paris by Chez Panckoucke in 1777-1779.
This map is on display in the MSU Map Library beginning July 23, 2015. It was a gift of Ronald Dietz.