Geological Map of Michigan. By Alexander Winchell, Published in Philadelphia by Samuel Geil in 1865.
In 1865, Michigan's mineral resources were just beginning to make a mark on the world. The western movement of people and wartime reliance on northern transportation routes drew attention to Michigan's newly convenient resources including iron ore, copper, and salt.
The map at first glance is typical of its day, highlighting land divisions and railroad routes. But drawn over it in light lines are the boundaries of major geologic features of Michigan, which had recently been established by Winchell himself. The prominence of non-geologic features on the map, and the fact that it folded with a cover to fit into one's pocket, suggests that it was intended for lay use rather than for other geologists.
Winchell could see that Michigan had great potential for mineral resource production. A key factor for their extraction was the opening of the locks at Sault Ste. Marie 10 years before this map was printed, in combination with the new rail lines to the iron and copper resources.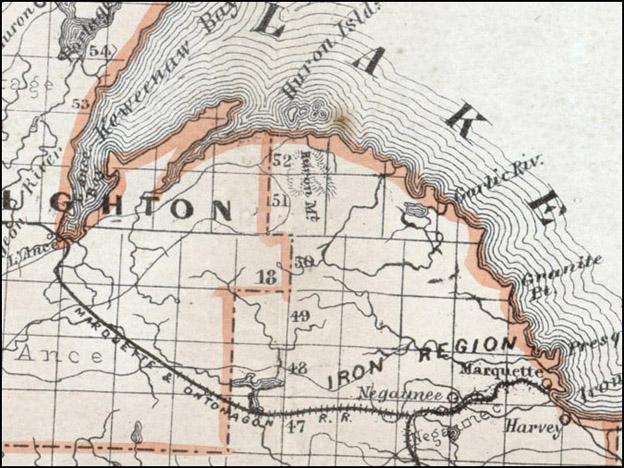 Detail from map. The "18" refers to the area designated as 'Granitic Rocks'.
This map will be on display in the MSU Map Library the week of July 22, 2013.
Sources:

Guns, Grain and Iron Ore: Michigan's Economy During the Civil War. Written by Albert A. Blum and published in the May/June issue of Michigan History on pages 13-20.
The American Steel Industry, 1850-1970: A Geographical Interpretation. Written by Kenneth Warren. Published in Oxford, Great Britain by Clarendon Press in 1973.
"Winchell, Alexander," an entry in Complete Dictionary of Scientific Biography, Vol. 14, pages 439-440. Published in Detroit by Charles Scribner's Sons in 2008. Accessed via Gale Virtual Reference Library.