The Birth of a Myth
Note: The following maps will be on display in the MSU Map Library the week of September 10, 2018. They were both generous gifts of Ron Dietz.
The French were enjoying the pinnacle of their influence in the Great Lakes when this map was published. It illustrated Charlevoix' history and travel journal which saw wide distribution and many printings. Mapmaker Nicholas Bellin's work was highly regarded and so this map helped shape many people's perceptions of the region. In many ways it was a great improvement in Great Lakes mapping.
Michiganders, however, can't fail to notice the excess islands in Lake Superior and the elevated plain down the center of the Lower Peninsula. Both fictitious features had been seen before in British maps. Lake Superior had many large islands in Robert Morden's 1698 map and John Senex' similar map of 1719. Even Guillaume de l'isle's map of 1718 shows an elevated plain. But this map actually gave names to the imaginary islands, and the elevated plain was given a much more deliberate shape. Bellin's reputation was such that both myths persisted in Great Lakes mapping for many decades afterward.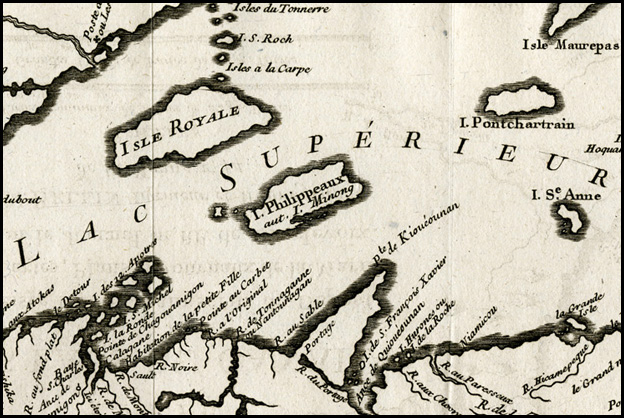 Detail from: Nicholas Bellin's 1744 map of the Great Lakes
Map citation: Carte des Lacs du Canada. Created by Nicholas Bellin and published in Pierre de Charlevoix' Histoire et Description Générale de la Nouvelle France avec le Journal... in Paris in 1744.
As a point of comparison, see this 1832 map which had been based on British Admiralty Charts.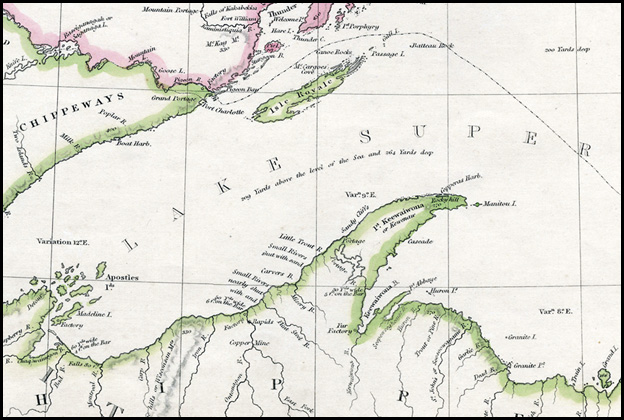 Detail from: SDUK's 1832 map of Lake Superior
Map citation: North America Sheet IV Lake Superior. Published by the Society for the Diffusion of Useful Knowledge in London in 1832.
 
Sources:
Bibliography of the printed maps of Michigan, 1804-1880, with a series of over one hundred reproductions of maps constituting an historical atlas of the Great lakes and Michigan. By Louis Charles Karpinski and William Lee Jenks. Published in 1931 in Lansing, Michigan by The Michigan Historical Commission. Entry 139. Available online at https://catalog.hathitrust.org/Record/001172450
The Mapping of North America: Three Centuries of Map-making 1500-1860. By John Goss.  Published in 1990 in Secaucus, New Jersey by Wellfleet Press. Entry 56